I have always loved The Big Chill. I grew up loving the movie and although the story wasn't as compelling as I wish it had been, there was a familiarity about it that I loved. The thought of friends vacationing together at a picturesque setting and being alone with their feelings was too enticing. Then throw in a loss of someone from their own circle and you have drama and the making of a wonderful plot line.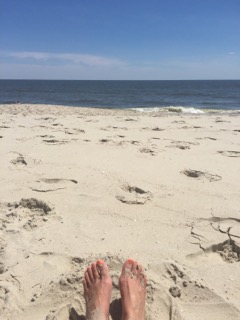 I remember being on my favorite beach in Cape May NJ and thinking about Tommy and Amy. They were the first characters that I created. I guess you might say everyone else came after. Tommy was this quintessential guy. He was the great friend, the husband everyone wanted and father and I imagined him being this deep and sensitive yet strong character. I've always loved the native american culture and legends and stories about american indians and I decided to make Tommy part cherokee. His father's role throughout the story evolved into something much bigger than I originally had planned.
Being a faith driven person, I always tend to have faith being someone of a force or character in the stories I write. Each of us are either driven by it or driven away from it. So I wanted this presence of Awi, to be one that might symbolize the a superior force in our lives. Although he is not alive in the story, he is reference throughout.
Tommy and Amy have such a beautiful and layered relationship. There is a lot there and most of it needs to be uncovered and dealt with. I didn't want a perfect couple nor did I want a tragically flawed couple either. I think the subplot of Amy's insecurities towards Tommy's old "friend/would be girl friend" is important in the couples journey.
The idea of Tommy and his need for closure with a Maggie Steadman was an idea that was influenced by my favorite television series thirtysomething. Michael Steadman (gave a tribute to the show by giving her Michael's last name) had saved these letters from an old girl friend who was never truly his girlfriend so he has all these feelings that he never confronted until he sees her after many years. I borrowed the story line of an exchange of a notebook the couple mailed back and forth while in college. They wrote couplets and quoted from poetry to one another. That always struck me as being extremely romantic. Ironically it was the only thing that was romantic in their relationship. So I incorporated that with the subplot pertaining to Tommy and Amy.
I think having them have Gracie (their baby) created a family within the family of friends.
All the others came after.
Although when The Eighth Summer opens up we don't see Tommy and Amy, we meet Mark. The unseen force behind the story. He is the catalyst for so much that occurs and he later ties them all together in the end without ever saying a word.
I don't think there is ever a moment that the reader questions Tommy and Amy's commitment or love for one another. In a way they are the parental figures in the group to all the friends even thought they are all close in age.
I find that in my writing there is always a steadfast stable and magnetic character that serves as the force or conscience to others involved. I definitely did that with Tommy and Amy.